Irish SMEs need to be as best prepared for Brexit as they can be. Below you will find useful information and contacts to help your business be Brexit-Ready:
Grants and Loans Available
InterTradeIreland Start to plan vouchers
Are you a business looking to navigate your way through Brexit and are unsure what to do next? InterTradeIreland offers 100% financial support up to £2000/€2250 (inclusive of VAT) towards professional advice in relation to Brexit matters. This support can help your business get advice on specific issues such as movement of labour, goods, services and currency management.
Click here to find out more.
SBCI Brexit Loan Scheme
The SBCI Brexit Loan Scheme is offered in partnership with the Department of Business Enterprise and Innovation, the Department of Agriculture Food and the Marine and is supported by the InnovFin SME Guarantee Facility, with the financial backing of the European Union under Horizon 2020 Financial Instruments. Learn more here.
The loans are available through AIB, Bank of Ireland and Ulster Bank. Approval of loans are subject to the banks own credit policies and procedures.
Enterprise Ireland e Prepared Grant 
The Be Prepared Grant offers up to €5,000 to assist in the cost of developing a strategic response to Brexit. It is intended to provide support to clients to use external resources to undertake a short assignment to determine how the company could respond to the threats and opportunities of Brexit. The grant can be used to cover consultant's fees, travel and expenses for both domestic and international employee travel. Click here to find out more.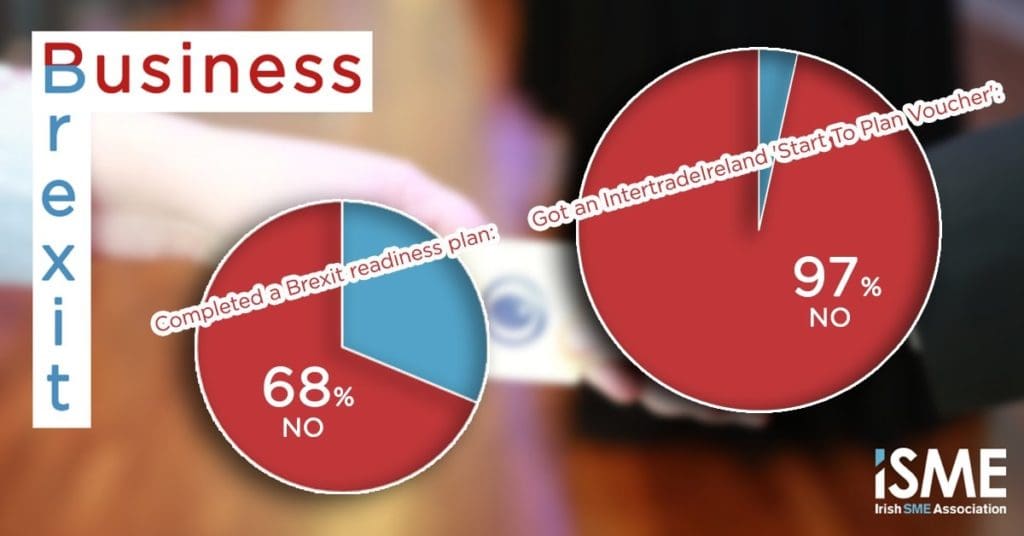 A poll carried out on 30th of January 2019 among SME owners found 68% had not completed a Brexit plan and only 3% had taken advantage of Iretertrade's 'Start to plan Voucher'
Other Resources
InterTrade Ireland
How would EU tariffs affect your business? Go to InterTrade Ireland's Tariff Checker here.
Read A Simple Guide to Cross Border Business here.
Find out about their Brexit events here.
Enterprise Ireland
Enterprise Ireland has a wide range of supports, including new Online Customs Training and the Act On Consultancy, to enable Irish businesses to take critical action and address their exposure to Brexit. Find out more here.
Brexit: Act On Initiative
The Brexit: Act On programme has been developed to focus on three main areas of capability (1) Financial and Currency Management (2) Strategic Sourcing and (3) Customs and Logistics. Delivered over the course of two half day sessions with an independent consultant, the initiative helps companies decide on specific actions over a short period to address some of the risks and opportunities from Brexit. Learn more here.
Brexit: Customs Insights course
The Customs Insights course helps businesses understand the key customs concepts, documentation and processes required to move goods from, to and through the UK. The course will provide learners with a firm understanding of the customs implications for their business and the options from Revenue to make this process more efficient. Learn more here.
Brexit Scorecard
Click here to find out how prepared you are?
Department of Business, Enterprise and Innovation (DBEI)
You can read useful information and find out about supports and services here.
Local Enterprise Offices
Brexit information and supports can be found here.
Health and Safety Authority
Providing support service for Irish chemical companies and SMEs on meeting legislative duties and ensuring they can source chemicals and sell in the EU. In addition, the Irish National Accreditation Board (INAB) which is part of the HSA can offer advice on accreditation matters. Learn more found here.
National Standards Authority of Ireland (NSAI)
Provides advice on how best to ensure businesses are certified to appropriate standards to access markets. Find out more here.
Department of Foreign Affairs and Trade (DFAT)
Get an overview of key Government and EU official documents on the Brexit negotiations and Ireland's Brexit preparedness measures and supports. This includes a calendar of Brexit-related events for businesses, find out more here.
Office of the Revenue Commissioners
In addition to the advice about changes in customs arrangements which is offered through Bord Bia, InterTrade Ireland, Enterprise Ireland and the Local Enterprise Offices, information relating to Customs formalities is available here.
Read ISME's CEO call for SMEs to start planning for Brexit here.
Watch our Brexit Discussion at our first roadshow

Offering advice to ISME Members was Derek Dunne, Customs Compliance Manager, Quality Freight Group speaking on Customs and Tariffs and Paul McMahon, Principal, McMahon Legal speaking on the implications for business of hard or soft Brexit.
You can watch the video back here: