BREXIT Events & Webinars
In this section you will find links to upcoming events to help you understand and prepare for BREXIT:
ISME's Brexit Q&A
Watch Back our Q&A on all things BREXIT which took place on January 27th at 11.30am with
Neil McDonnell, ISME CEO, Derek Dunne, Customs Compliance Manager, Manifests Ireland, Paul McMahon, McMahon Legal & author 'Brexit (An Irish Guide)', Ray Ryan, Assistant Principal in Customs Division, Revenue
Watch the previous Q&A from December 2020 below:
;
ISME's Virtual Brexit Discussion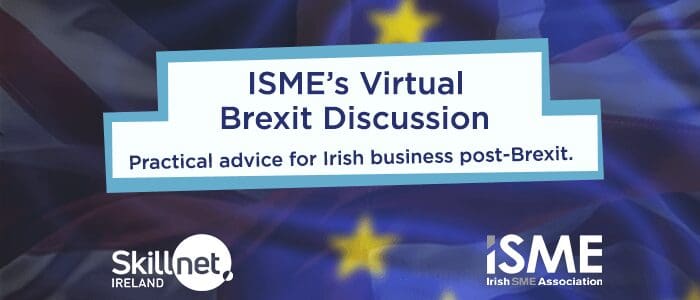 ISME, along with Skillnet Ireland hosted a live Virtual Brexit Discussion with a selection of subject experts on Tuesday, 20th October at 11.00 am. The event was hosted by Newstalk's Business Editor, Vincent Wall. The panel is made up of Katy Hayward, Dave Flynn, Giles O'Neill, Derek Dunne and Paul McMahon. This discussion looked at a number of key issues, including importing, exporting & customs; legal ramifications; supports; and cross-border trading. Watch the webinar and view speaker bios here.
ISME Skillnet: Is your business ready for Brexit?
12th November | 1:15pm- 2:15pm
In this FREE webinar, experts Martin Agnew and Ciaran McConigley from Across Borders Consulting will discuss the critical steps Irish Business trading goods with the UK must take in order to be ready for the end of the Brexit transition period.
This session will cover the following topics:
Current Status of Brexit – Deal or No-Deal and what does this mean for SME's?
Preparing for Customs Implications of Brexit
Surviving and Thriving in a Post-Brexit Environment
What SME's should do to prepare and supports available;
Q&A.
Click HERE to register for the course.
Enterprise Ireland's BREXIT webinars
The Brexit Webinars outline the key issues Brexit presents and the practical steps to manage and reduce the impact on your business. Browse their vast selection of webinars here.
HSA BREXIT Webinar Series
The HSA host a series of on-line webinars, aimed at assisting Irish companies in their preparations for Brexit, starting on October 1st 2020. Companies will be informed as to the implications of Brexit and the Northern Ireland Protocol for them and what they need to do now to ensure both continuity within their supply chains and compliance with relevant EU Regulations. Areas covered will include accreditation, the use of notified bodies and implications for those businesses involved with transportable pressure equipment, machinery and chemical products. Register here.
NSAI BREXIT Webinar Series
This Webinar Series is now complete. Due to popular demand, all webinars in this series will be made available to watch back on the 20th of October, 2020. .
NSAI's Brexit Unit presented a series of four weekly webinars to explain and address how Standards, certification, manufacturing and trade will intersect with Brexit in the coming months.
Presenting webinars for different Irish industry sectors, the Brexit Unit and their special guests explained how best your business can become Brexit Ready. Make sure to check back here for updates Short presentations were followed by a Q&A session