Learn about the speakers before the event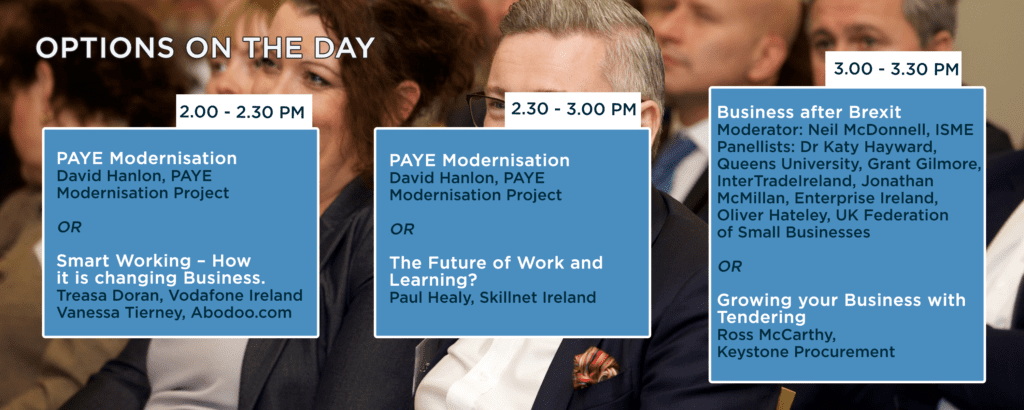 ​David Hanlon
David is a team lead on the Change Management team for the PAYE Modernisation Project. He is a Revenue professional with extensive experience in the practical application of tax and audit.
As an auditor in Large Cases Division his knowledge spans across multiple economic sectors including manufacturing, life sciences, food, financial and ICT.
Treasa Doran
Treasa is the Head of Small Business Sales for Vodafone Ireland. Treasa was been with Vodafone for over 12 years having started her career in performance analytics. She then moved into a commercial management, working on pricing, go-to-market and segment marketing.
After this, Treasa worked on the Consumer side as channel marketing manager for Retail before returning to an Enterprise role in P&L ownership and management of the SME sector. She moved to the head of sales position in December 2018
Vanessa Tierney
Vanessa is co- founder of Abodoo the smart matching career platform for SmartWorking, with powerful matching technology that is enabling companies to hire exceptional professional talent fast and accurately from every corner of Ireland and has gone international.
Launched from Gorey, Wexford where Vanessa and co-founder husband Ben Wainwright live, Abodoo has been described as the "Linkedin for Smart Workers with superior matching algorithms" giving access to great talent with less cost and time then using traditional job sites
Paul Healy
Paul is the Chief Executive of Skillnet Ireland, the national agency responsible for the promotion and facilitation of workforce learning in Ireland. Skillnet Ireland supports over 50 industry representative groups (including ISME), assisting 15,000 firms and 50,000 trainees each year.
Skillnet Ireland operates under a joint investment model, where State grants are combined with investments by participating businesses in the 60+ Skillnet learning networks nationally.This enterprise-led approach has received international recognition as a model of best practice from the OECD amongst others.
Ross McCarthy
Ross is Managing Director of Keystone Procurement, a commercial strategy and procurement advisory company based in Wexford but with a national and international focus. The business is built around procurement and commercial services related to sourcing and procurement. Keystone Procurement work with Buyers and Suppliers.
As a business, they are experts in tendering and the management of tendering and also work with suppliers selling into companies. . They work across all conceivable scenarios on the buy and supply side and are well placed to help organisations understand how they can grow their business through tendering
Jonathan McMillan
Jonathan was appointed in May 2018 to head up Enterprise Ireland's Brexit Unit. He has held previous senior roles in Enterprise Ireland in Export Sales and Marketing, as an Investment Advisor and has managed and worded with Enterprise Ireland teams in New York, Dusseldorf, London and Glasgow. Before joining Enterprise Ireland, Jonathan worked for PWC as a management consultant.Jonathan is a Business Studies graduate from the University of Ulster and has further postgraduate qualifications from UCD and New York University
Grant Gilmore 
Grant is an experienced Operations Manager who has been with InterTradeIreland since its inception. He has recently taken over responsibility for the BREXIT Advisory Service which seeks to support companies through the current negotiations and beyond. InterTradeIreland is the cross-border Trade and Business Development implementation body set up under the terms of the Belfast Agreement (April 1998). Its job essentially is to 'exchange information and co-ordinate work on trade, business development and related matters, in areas where the two administrations specifically agree it would be in their mutual interest'.InterTradeIreland aims to; support firms that have the drive to become exporters, develop an open system of innovation in Ireland and Northern Ireland & deliver programmes and initiatives that develop business capability and connectivity within the two growth drivers of trade and innovation.
Oliver Hateley 
Oliver acts as the EU and International Affairs Advisor at the UK Federation of Small Businesses. In his role, Oliver advises the 170,000 members within the FSB's membership on various regulatory issues affecting UK small business at the European and international level. Prior to joining FSB, he acted as the Senior Advisor on trade and data economy at the European eCommerce & Omni-Channel Trade Association (EMOTA), where he was responsible for digital trade issues, data protection and product safety.  Before that, he worked as a legal researcher at a Brussels-based law firm on trade and food law issues, as well as an advisor to the critical and rare metals sector. He holds a postgraduate degree in European law and an undergraduate degree in law.