ISME are delighted to launch their 2018 Annual Conference which will take place on Wednesday 21st November in the Citywest Hotel, Dublin. This year the association is marking 25 years and this has inspired the theme of the conference Think 25 – Looking ahead for Irish Business.
Commenting on this year's conference, ISME CEO, Neil McDonnell said
"ISME is 25 years old this year. We've put a pretty eventful quarter-century behind us. We're going to cast a nostalgic eye back to the Ireland of 1993 at our Annual Conference. But the main theme on the day will be looking ahead at the next quarter century. With all that is happening around us, we think the next 25 years will be the most eventful since we joined the EEC in 1973. Our relations with Northern Ireland, Britain, the EU, the USA, Asia and Africa will be profoundly changed. Brexit, an EU where we will be the only common-law member, a disengaging USA, and a more muscular China and India will change the way Ireland interacts with the world. It's going to be a great place to be an SME. Join us in November to see why."
Conall Ó Mórain will chair this action-packed day which includes the keynote speech by Alison Cowzer, Director, East Coast Bakehouse (former Dragon on RTÉ's Dragon's Den).  Professor of Computing in DCU and Co-Founder of the Research Centre for Data Analytics, Alan Smeaton will give the theme address which will focus on technology, data and what it means for business over the next 25 years. Other highlights on the main stage include an interview by Conall with David Cox, Managing Director of Fragrances of Ireland, an ISME member since 1993 who will chat about his business over the last 25 years and plans for the next; John Popolizio from Sovy will look at simplifying  compliance for SMEs;  and the presentation of the Sean Hannick SME Award. The Great Debate will close the morning session with panelists Newstalk's technology expert Jess Kelly, economist Jim Power, Dr Kay Haywood, Queens University and author of Bordering on Brexit: and Christopher Paye, General Manager at Jobs.ie The panel will discuss what we have learned from the last 25 years that can be used to inspire future business. After lunch we will be running breakout sessions across a variety of key business topics, each 30 minutes in duration – full details to be announced in October.
ISME is thrilled that this year's conference is sponsored by Sovy – compliance software for SMEs, and the media partner for the second year running is the Sunday Business Post. At the announcement, they commented:
"Sovy is delighted to partner with ISME and sponsor the Think 25 conference on 21st November. Sovy and ISME share a common goal, to simplify business compliance for SMEs in Ireland. ISME connects us with Ireland's thriving SME community to provide affordable compliance in the cloud for GDPR, workplace conduct and anti-fraud regulations."  John Popolizio, CEO, Sovy
"Every week The Sunday Business Post profiles the best of Irish business stories. Small and medium enterprises are key to the success of our economy and giving these businesses a platform is key to what we do in The Sunday Business Post. We are delighted to support the ISME conference again this year. "  Emma Horgan, Circulation & Marketing Manager, The Sunday Business Post.
There are many ticket options for delegates – a full day ticket for all the events or individual tickets for the Morning Session or for the Breakout Sessions starting from €35 p.p. For a limited period (1st-31st October, we are offering Early Bird full day tickets.
NETWORK, CONNECT, TRADE, COLLABORATE – attendees can visit over 60 exhibition stands across a range of industries offering lots of opportunities to do business.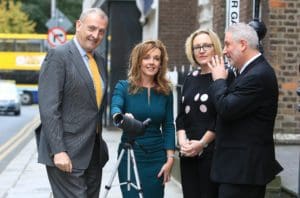 Left to right: Neil McDonnell, CEO, ISME, Alison Cowzer, Director, East Coast Bakehouse, Elizabeth Fallon, Key Account Manager, Sunday Business Post and John Popolizio, CEO, Sovy