As Ireland increasingly looks like having to deal with a disorderly, WTO Brexit, the ISME Annual Conference in Citywest Hotel on 23rd October will host a timely discussion on Brexit. Our Brexit Panel Discussion is one of our Breakout Sessions and will take place on the Main Stage after lunch. You can view the Conference Programme here.
Moderated by David Davin Power, veteran ex-Northern Ireland Editor for RTÉ News and Current Affairs and current columnist with The Times Ireland, the panel will explore views on Brexit from across the political and academic spectrum.
Shanker Singham, of the UK Alternative Arrangements Commission, Chairman and CEO of Competere, will explain how alternative arrangements to the 'Backstop' could avoid a hard border in the event of Northern Ireland departing the Customs Union.
Professor Dolores Cahill, Professor of Translational Science at UCD and Chairwoman of the Irexit Freedom Party will give her party's views on Ireland's continued membership of the EU.
Fergus O'Dowd TD, Fine Gael TD for Louth, will explain the impact of a hard Brexit on his Border Constituency.
Lisa Chambers TD, Fianna Fáil TD for Mayo and party spokesperson on Brexit, will give her views on the way ahead.
Lastly, Dr Karen Devine, Department of Law and Government DCU (home of the Brexit Institute) will give her views on the current state of play.
Meet our Brexit panellists here.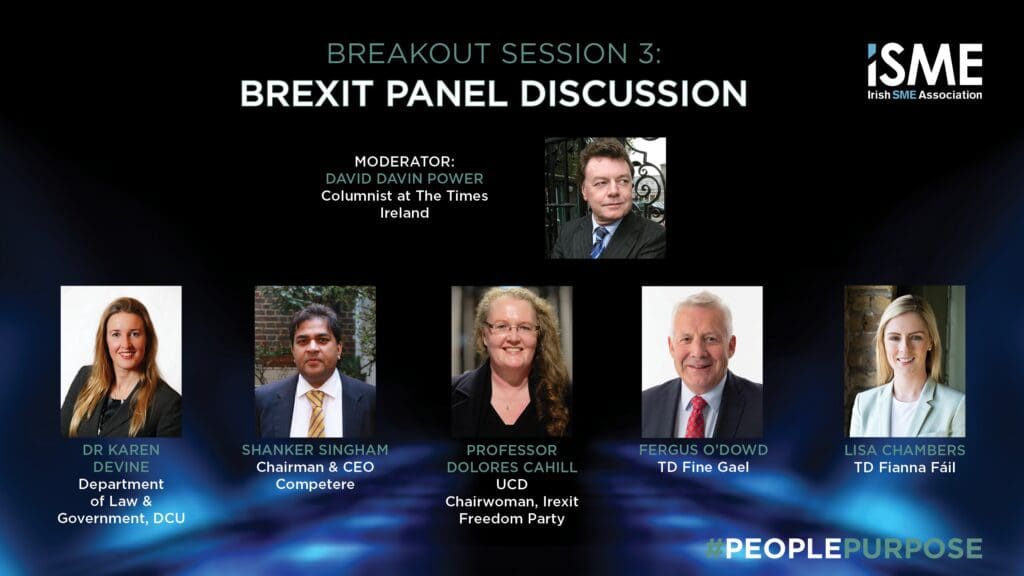 Book your tickets here.