The popularity of the standing desk has shot up (no pun intended) over the last decade and when you look at the health benefits of a height adjustable desk its no surprise why. Since their inception the technology, features and price have all dramatically improved. There are now affordable options for all staff members or home office workers as more people start to put their wellness first when it comes to the workday. This of course is a fantastic direction to see the workforce heading as nothing is more important than your health.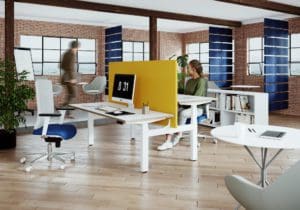 Lower your risk of heart disease weight gain and obesity
Weight gain is ultimately caused by taking in more calories than you burn, exercise is the most effective way to burn calories quickly, but simply choosing to stand instead of sitting can also be beneficial.
In fact, when compared to an afternoon of sedentary (sitting) work, an equal amount of time spent standing has been shown to burn over 170 additional calories. That's almost 1000 extra calories burned each week from simply changing your work style and standing for portions of the work day.
This caloric difference could be one of the reasons why sitting longer is so strongly linked to obesity and metabolic disease.
Scientists have developed a much greater understanding of the effects of sitting on heart health, with prolonged sedentary time thought to increase the risk of heart disease by up to 147%. Undoing the damage of a sedentary workday would require over an hour of intense gym work in order to see benefits.
There is no doubt that spending more time on your feet is beneficial for heart health.
Less Sick Days, Increased Energy and More Productive Staff
If you don't have the flexibility or the time to get away from your workstations every hour then you will benefit tremendously by using a sit-stand desk that allows them break from their sedentary posture without leaving the work area. Companies that invest in height adjustable desks are taking the first steps in prevention as a sit stand desk will reduce employee discomfort and injuries.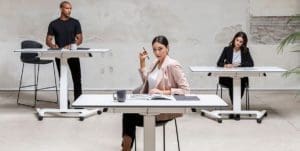 In many circumstances, the combination of increased productivity, along with the savings on workers' compensation expenses alone are enough to offset the investment in adjustable desks. Workstations that are ergonomically designed may also reduce or eliminate sources of work related stress.
Standing Desks Appear to Reduce Back Pain
Back pain is the most common complaints of office workers in Ireland who sit all day. To determine if standing desks could improve this, several studies have been done on employees with long-term back pain. Participants have reported up to a 32% improvement in lower back pain after several weeks of using standing desks.
The removal of the sit-stand desks reversed some of those improvements within a 2-week period. It is recommended that you combine sitting on an ergonomic chair with daily intervals of standing in order to get the most of a standing desk. Too much of one will have a negative impact on health therefore it is important to changing between sitting and standing throughout the day.
ISME Member m2.ie have a selection of these desks on their website www.m2.ie
Source: https://pubmed.ncbi.nlm.nih.gov/26735316/