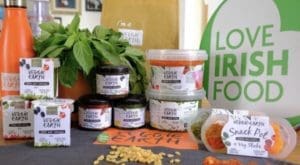 Genovese are a family run business, who are a very Irish company with a very Italian name. Established in 1999, they are the oldest fresh pesto producers in Ireland and epitomise what clean food is all about. Genovese hand make their range in small batches, blending the taste of fresh healthier ingredients and using techniques that allow those flavours to develop naturally and unhurried. They couple their understanding of the craft of making pesto with a deep love for additive free food and a passion for producing hugely flavoursome products using minimal processing.
Genovese produce pesto and tapenade to time honoured Italian recipes using only traditional Italian ingredients. Their suggestion for the festive season is to: "Add our pesto to your cheese or charcuterie board this Christmas." 
We are a specialist gourmet company that believes in producing great products from great ingredients. We pride ourselves on our taste and the health benefits of the ingredients we use. All products are Gluten & Nut Free and manufactured in a totally Gluten & Nut Free environment. All products are either Vegetarian or Vegan. We use only pine nuts or pine kernel's in our products, which are the seed of the pine cone and therefore not a listed
allergen. We are registered with the Coeliac Society of Ireland. Our small batch production techniques use absolutely no artificial additives, preservatives or colourings. Our products are free from GMO and have the Lowest Salt content of any pesto products on the market in Ireland today. All products are fresh therefore they need refrigeration but our handcrafted small batch production methodology gives us a 42 day shelf life, even when opened.
Shop local and buy Irish with Genovese here.