Applications are now open for the Sean Hannick SME Award
This award will be given to an SME that has shown the entrepreneurial attributes of courage, innovation, scalability, a willingness to learn – grounded in Ireland with an international perspective. Previous winners include Transfermate Global Payments in 2016 and Wild Orchard in 2017.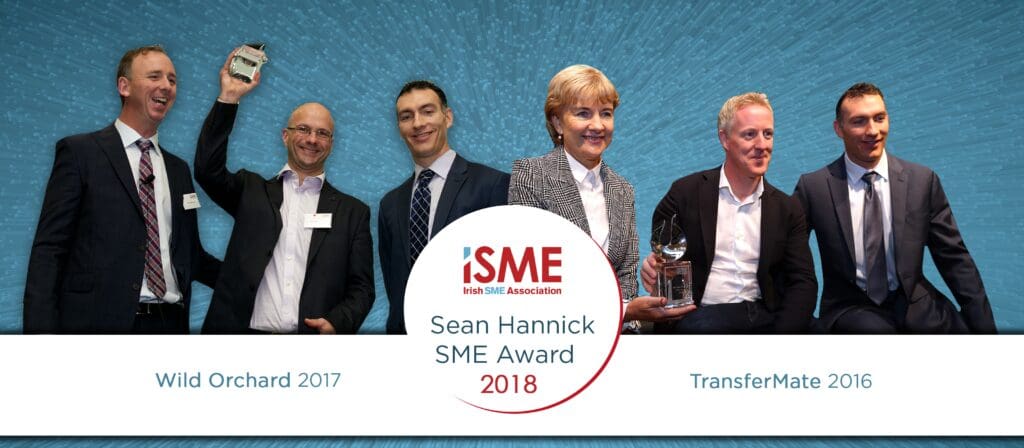 Do you think your business has what it takes?
To apply for the award, you need to provide the following information:
Applicant Details
Business Name
Name of Managing Director/CEO
Address
Website
Telephone
Email
Trading status eg. Ltd, Sole trader etc.
Business Type
Key contact for award: Name and contact details
The application must include the following:
Describe your business with details in relation to company history, products and/or services, client base plus main competitors and number of employees. (Max. 500 words)
Demonstrate the uniqueness of your brand and quality in products, services or delivery mechanisms. How do they bring added value to your business performance, productivity, customer engagement or customer satisfaction? Think elevator pitch for this. (Max. 300 words)
Why do you believe your business should win the Sean Hannick SME Award? To help with this question, the criteria relating to the assessment of your answer is detailed below:
Innovation
Describe using examples how innovation and creativity has contributed to one or more of the following: (Max. 800 words)
Business growth
Business improvement
Business planning & development
Scalability
Show with examples how you have scaled your business to adapt to the changing markets and environment. (Max. 800 words)
Community Activity
Describe and give examples of how your business contributes/impacts the wider community – locally, regionally or nationally. (Max. 800 words)
Human Resources
Outline details about your staff training and development programmes, and the strategies and activities you have in place for staff retention and communication. (Max. 800 words)
ENTRY PROCESS
Ensure you answer questions 1-3 and include full details about the company and the key contact for this award application. The application must be provided in Word/PDF formats only with the option to supply supporting material with the application such as brochures, presentations, visuals or video.
The name of the company needs to be typed at the bottom of the application and signed by a Company Director and include the date, confirming that the information provided is correct to the best of your knowledge and believe that no material information has been withheld. By signing this application, you accept the rules and conditions of entry and agree to abide by the decisions of the judging panel on all matters relating to the ISME's Sean Hannick SME Award.
All applications must be submitted by email to [email protected] and you will receive confirmation of your application within 48 hours.
The application deadline is Wednesday 31st October.
Applications will be shortlisted and sent to a judging panel made up of members of ISME's National Council. Application will be scored based on the key criteria set out for this award. Judging will take place in early November.
Further information may be requested from all shortlisted finalists during the judging process.
All applicants will be contacted following judging.
Only 1 application per business.
The award will be presented at ISME's Annual Conference on Wednesday 21st November in the Citywest Hotel, Dublin.
Please Note: This award is only open to current ISME Members.
Information will be treated in strict confidence and will only be used for the purposes of the awards.
You can download the application instructions below.