Unprecedented mass mobilisation of digital has occurred across our small island with businesses migrating online, many for the first time ever, as a result of the pandemic. 65,113 new .ie domains were registered in 2020, the highest number ever in one year and a 30% increase on 2019. In what is a case of snooze and you lose, businesses have realised the importance of an online presence, (and in many cases this includes e-commerce functionality), for damage limitation resulting from closed bricks and mortar premises.
However, far from damage limitation, this forced new way of working for many has come with some major benefits, often surprising the online retailer, as it has opened up new markets and created new, efficient ways to interact with customers.
It's a hot topic and leading data service provider, GeoDirectory, is hosting a free webinar called "Ways To Win Online" on Tuesday 23rd February at 3:30pm with the latest trends, projections and practical advice to help businesses really optimise their online retail business in 2021.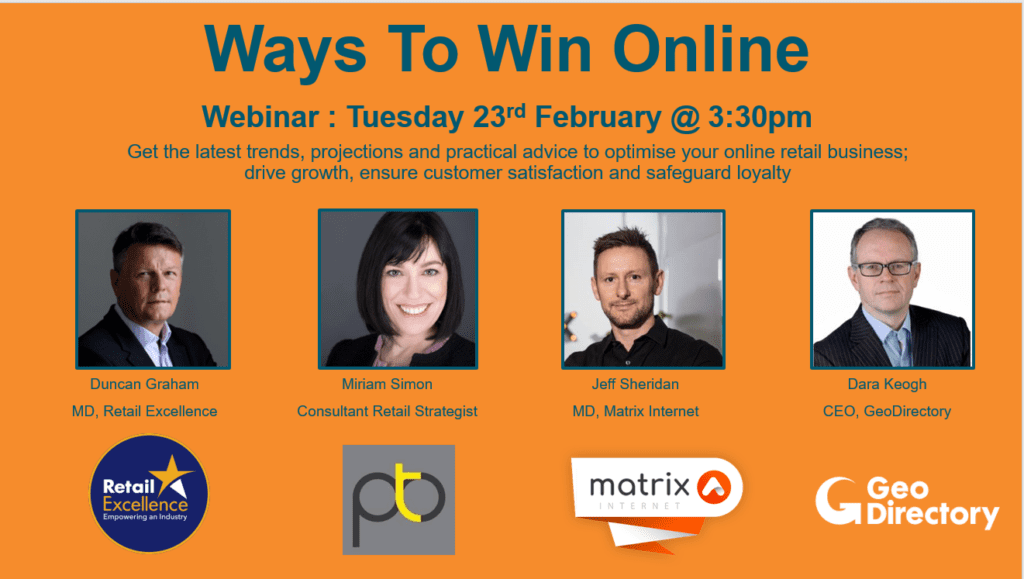 The one-hour event sees retail industry experts, Duncan Graham, MD of Retail Excellence and Miriam Simon, Retail Strategist, reflect on the last 12 months and highlight current trends in the sector and what they expect for the future of retail.
Jeff Sheridan, MD of Matrix Internet and all round digital pro, will join Dara Keogh, CEO of GeoDirectory to discuss the practical side of advice given and how to have your business in top digital shape and ready to take advantage of the online shopping environment.
And if you've got a burning retail query get ready to submit it to the experts, because there'll be a lively Q&A at the end of the talks.
For heavy hitting advice on how to drive growth, ensure customer satisfaction and safeguard loyalty on your online platform, register your place on this drive to thrive webinar.
Register your place here
Visit www.geodirectory.ie