ISME Pre-Budget Submission 2020
Minister Paschal Donohoe needs to prepare the economy for more difficult times ahead.
Every man, woman and child in Ireland owes €46,000 in Government debt. We must stop adding to that this year.
The state requires a radical program of reducing the cost of living in Ireland, most particularly the cost of housing.
Our CGT rate is an outlier in the OECD at 33%. It must be lowered, and entrepreneurial incentives increased.
ISME suggests we need a standing public sector pay commission to make regular recommendations on pay trends for the public service.
Tax discrimination against the self-employed must end.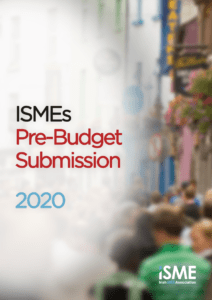 Read the Submission in full here.