ISME Skillnet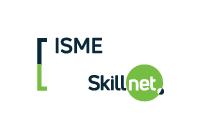 ISME Skillnet
ISME Skillnet is a multi-sector learning network which provides subsidised training courses and certified Management Development programmes designed specifically for SMEs. We are committed to supporting workforce development through the provision of quality, industry-led training. Our objective is to support the advancement of our member companies by identifying and addressing their technical and non-technical skills needs. Contact us today to learn more.
ISME Skillnet is co-funded by Skillnet Ireland and member companies.
The benefits of your company joining ISME Skillnet:
Saving of time and resources – training network organizes training courses on behalf of businesses
Cross-sectoral networking opportunities with businesses in your region
Creating new business contacts/opportunities
Sharing of knowledge, ideas, advice and best practice
Member businesses and their employees are directly involved in the identification, design, delivery, and evaluation of training
For further information on Skillnet Ireland, please visit: www.skillnetireland.ie
To view Skillnet Ireland's Trainee Privacy Policy visit: Trainee Privacy Statement
Jobseekers
ISME Skillnet supports the workforce development needs of businesses within the SME sector. We offer a small number/selection of industry-led and fully funded programmes for people who are not in employment, subject to eligibility criteria and the availability of places. If you are currently not in employment and wish to upskill or reskill, click here for details of Skills Connect training for people seeking employment. Further details of Skills Connect and the eligibility criteria can be found on the Skillnet Ireland website here.