ISME release the results of our fifth flash survey on COVID-19.The survey found that 68% of respondents are availing of the TWSS or EWSS, making wages supports by far the largest liquidity solution availed of by business. Just 16% of those surveyed are availing of the Covid Restrictions Support Scheme. While some 25% of respondents were availing of the pandemic unemployment payment (PUP) as a self-employed person, up from 21% in September.
35% of businesses have availed of a Restart Grant, a significant improvement on the 4% who had applied in September

5.62% of businesses have availed of the SBCI working capital scheme, up from 4%

Only 3% have availed of a MicroFinance Ireland loan

3% have availed of the Credit Guarantee Scheme, an improvement on the 0.4% reported in September.
On a positive note, as you will see below, the number of respondents who believe their business will cease trading has dropped from 5% in April to less than 1% in November. The number who believe they can keep trading for more than 9 months has increased from 20% in April to 58% in November – full data in here.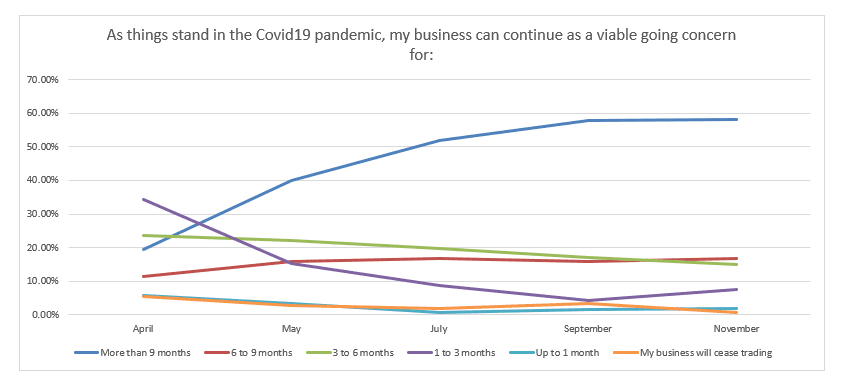 Almost 63% of SMEs have yet to seek assistance from their banks. While 19% of businesses are owed money by the State. Of those, 32% are owed less than €10,000, and 58% are owed between €10,000 and €250,000.
ISME CEO, Neil Mc Donnell commented; 
We are delighted to see the improvement in SME sentiment on business survival since our last Covid-19 survey. The proximity of the end of the Level 5 lockdown, as well as the increasingly positive news on vaccine approvals, have no doubt raised levels of optimism. While we are all looking forward to an active trading period for Christmas, we ask everyone to play their art in ensuring there is no spike in case numbers by sticking to the public health guidance in preventing Covid-19 spread: WASH HANDS | MASK UP | MAINTAIN SOCIAL DISTANCE | FOLLOW THE FRAMEWORK 
ENDS