Thank you to all who attended the ISME Annual Conference on Wednesday 23rd October in the Citywest Hotel and for those who couldn't make it, below are some highlights from the day. More photos are available on our image gallery here.
On the Mainstage:
Opening the conference was Robert Troy TD, Fianna Fáil Spokesperson on Business, Enterprise and Innovation.
A thought provoking keynote address from Jim Gavin, with lots of questions and congratulations from the delegates, not just Dubliners.
Norah Casey gave an inspirational talk on people and purpose with insights from own experiences.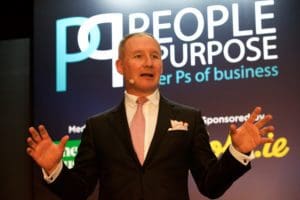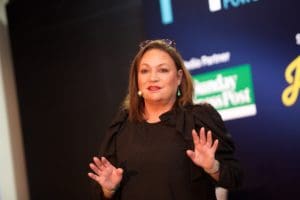 Lively debates before and after lunch, including, The Great Debate – Is it just about the bottom line? with panellists:
Colm O'Reilly
Conall Mac Coille
Senator Pádraig Ó Céidigh
Richard Boyd Barrett TD
Dr Laura Bambrick
And the Brexit Panel discussion moderated by David Davin Power with panellists:
Shanker Singham
Professor Dolores Cahill
Dr Alasdair McDonnell
Lisa Chambers TD
Dr Karen Devine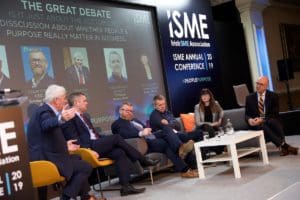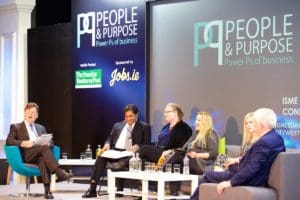 Christopher Paye, General Manager of Jobs.ie, Ireland's most popular e-recruitment platform shared his insights into the changing shape of the Irish labour market, trends in digital recruitment and revealed the steps businesses need to take to win the race the talent. Find out more here.
An interview with Marc O'Dwyer discussing Big Red Cloud's journey.
Head of Wellness for Laya Healthcare, Sinéad Proos talked about Workplace Wellness and how its benefits business.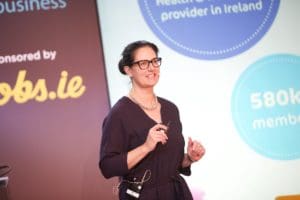 In the Breakouts:
Claes Peyron, Managing Director of Universum – the global employer branding company and Jobs.ie partner, who chaired a Talent Workshop which explored how SMEs can attract the best people for their business. Universum is launching its hugely successful Employer Branding Academy in Ireland with a special Early Bird 'Launch' rate available to ISME members for a limited time only. Enjoy €200 off the Academy online (Standard price €1,495) or €1,000 off the Academy in-class (Standard price €2,495). Find out more here.
Justin Smal, CEO with Monread CRM lead a session on how Digital transformation and how SMEs can harness technology to become a purpose driven organisation.
During lunch Jody Kennedy and Laya Healthcare ran an Energising session for delegates.
The Workplace Relations Commission had several presentations. You can view and download them here.