The business event not to be missed in 2019 is ISME's Annual Conference which will take place on Wednesday 23rd October in the Citywest Hotel, Dublin. The theme of the conference is People & Purpose – The Power Ps of Business which will look at the importance of these key elements to business success and growth.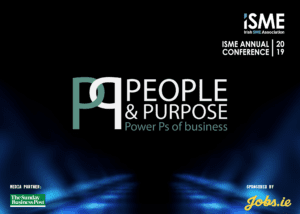 Commenting on the conference, ISME CEO, Neil McDonnell said:
"2019 was meant to be the year when uncertainty cleared. Instead, it abounds. Which makes it more important than ever for enterprises to be able to define a clear purpose for their business, and to have the right people to fulfil that purpose. This is not easily done in a market at full employment, with skills shortages in many areas. This year we'll focus on how your business can do both for the times ahead. "
Conall Ó Mórain will chair this action-packed day which includes networking, breakout sessions, guest speakers, interview, panel discussions and a dedicated exhibition area.
We are delighted to be joined by a fantastic line-up of speakers and panellists including:
Robert Troy T.D. Fianna Fáil Spokesperson on Business, Enterprise and Innovation who will open the conference
Our Keynote speaker Jim Gavin, manager of the five times-in-a-row winning Dublin Gaelic Football Team and Assistant Director of the Irish Aviation Authority.
Broadcaster, publishing entrepreneur and human rights campaigner Norah Casey who will discussing the theme People & Purpose.
An interview with Marc O'Dwyer, CEO of Big Red Cloud.
Christopher Paye, General Manager, Jobs.ie looks recruitment and getting the best people for your business.
Sinead Proos, Head of Wellness in Laya healthcare will discuss the importance of Wellness in the Workplace.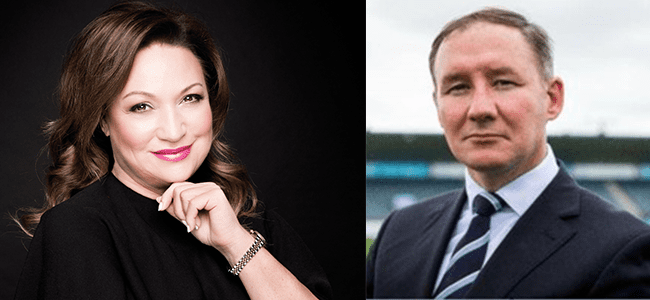 The Great Debate – Is it just about the bottom line? Does people & purpose really matter in business?
With panellists: Gillian Neilis, Managing Editor, Sunday Business Post
Conall Mac Coille, Chief Economist, Davy
Senator Pádraig Ó'Ceidigh
Richard Boyd Barrett T.D., People before Profit
Dr Laura Bambrick, Congress Social Policy Office, ICTU
There will be four breakout sessions during the day which cover a range of topics linked to the conference theme. Three will take place in the Breakout Room in the foyer and include:
The Talent Workshop – Five actions you can take now to help win the battle for talent. Claes Peyron, MD of Universum and the Employer Branding Academy, global leaders in employer branding.
Digital transformation: empower people, redefine purpose – How SMEs can harness technology to become a purpose driven organisation (People, Purpose, Process). Justin Smal, CEO, Monread CRM
Adjudication, Mediation and Inspection Services – An Overview. James Kelly, Adjudicator & Mediator and John Kelly, Regional Manager, Inspection Service, Workplace Relations Commission (WRC)
When the conference takes place, it will less than 10 days before the UK leave the EU and we've assembled a terrific group of speakers for the mainstage Brexit breakout panel discussion which will no doubt prove to be an energic debate including:
Moderator: David Davin Power, columnist with The Times Ireland, and former Northern Ireland Editor for RTÉ News and Current Affairs.
Shanker Singham, Alternative Arrangements Commission Chairman and CEO of Competere.
Professor Dolores Cahill, Chairwoamn of Irish Freedom Party.
Fergus O'Dowd TD, Fine Gael.
Lisa Chambers TD, Fianna Fáil.
Dr Karen Devine, Department of Law and Government DCU (home of the Brexit Institute).
ISME is thrilled that this year's conference is sponsored by Jobs.ie and the media partner for the third-year running is the Sunday Business Post. Christopher Paye, General Manager of Jobs.ie commented:
"As Ireland has moved towards full employment, the power balance within the recruitment market has shifted from employer to jobseeker. This combination has resulted in many SME's facing increasing difficulties attracting the right people to work in their business, which is vital to ensure growth and sustainability. We're thrilled to be working with ISME and their members throughout the year, highlighting issues and offering insight into the mindset of the jobseekers in Ireland."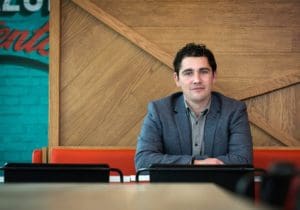 View the full programme here and click here to view the video from the 2018 conference. You can book your tickets and exhibition space now, find out more here. Members can avail of a members rate by quoting coupon code when booking, email us if you have yet to receive the code.