Applications are open for the new SBASC.  This scheme is open to businesses ineligible for CRSS & other sector specific grants. Those whos businesses are down 75% or more in turnover among those expected to benefit.
Eligible businesses will receive a payment of €4,000 for Quarter 1 of 2021. There will be a second payment of €4,000 for businesses continuing to meet the criteria.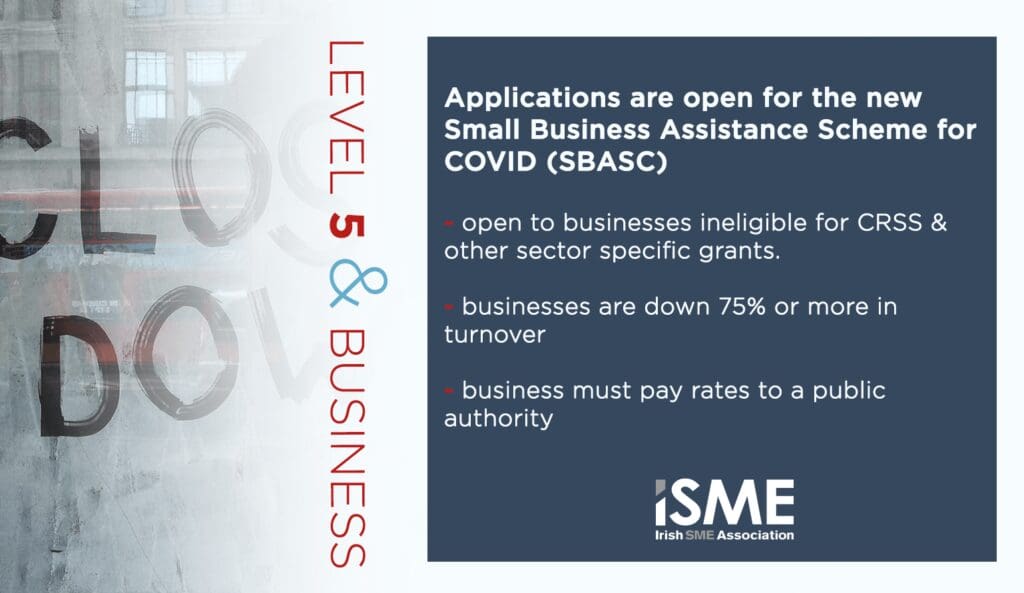 Who is the SBASC available to?
It is available to companies, self-employed, sole traders or partnerships with a minimum turnover of €50,000 not are eligible for the

Revenue scheme CRSS,
Fáilte Ireland Business Continuity Scheme
The Department of Tourism, Culture, Arts, Gaeltacht, Sport and Media's Live Performance Support.

In order to be eligible the business must pay rates to a public authority.
The Scheme is open to firms that currently employ less than 250 and with current turnover of less than €25m.
Your business must have a current eTax Clearance Certificate from the Revenue Commissioners
Your business should be 75% or more in turnover
Who is exempt from the scheme?
Businesses operating out of mobile premises, or premises which are not permanently fixed in place, do not meet the definition of business premises nor do premises on which no rates are payable);
When and where do applications for SBASC open?
The scheme is open for applications from 11th March, 202. Applications should be made to your Local Authority.
When do applications for the SBASC close?
Closing date for receipt of applications is 21st April, 2021.
Where to find more information
The Department of Trade, Enterprise and Employment have more information here.