ISME Skillnet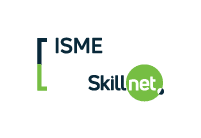 Skillnet Ireland funds and facilitates training through over 60 networks of private sector companies, in a range of sectors and regions. Each network delivers training that is relevant to specific industry and member company needs.
ISME Skillnet is funded by member companies and the Training Networks Programme, an initiative of Skillnets Ltd. funded from the National Training Fund through the Department of Education and Skills.
For details on ISME Skillnet programmes look at the training courses page.