ISME Skillnet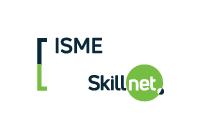 ISME Skillnet
ISME Skillnet is a multi-sector learning network which provides subsidised training courses and certified Management Development programmes designed specifically for SMEs. We are committed to supporting workforce development through the provision of quality, industry-led training. Our objective is to support the advancement of our member companies by identifying and addressing their technical and non-technical skills needs. Contact us today to learn more.
ISME Skillnet is co-funded by Skillnet Ireland and member companies.
The benefits of your company joining ISME Skillnet:
Saving of time and resources – training network organizes training courses on behalf of businesses
Cross-sectoral networking opportunities with businesses in your region
Creating new business contacts/opportunities
Sharing of knowledge, ideas, advice and best practice
Member businesses and their employees are directly involved in the identification, design, delivery, and evaluation of training
For further information on Skillnet Ireland, please visit: www.skillnetireland.ie
To view Skillnet Ireland's Trainee Privacy Policy visit: Trainee Privacy Statement
Jobseekers
ISME Skillnet focuses on supporting those in employment within the SME sector. A number of other Skillnet Networks participate in the Skillnet Ireland Employment Activation programme. This initiative is designed exclusively for unemployed people and includes free training in skills in demand by companies combined with direct access to employers through meaningful work placements. For further information on Skillnet Networks offering free training programmes for those seeking employment, subject to eligibility criteria, see the Skillnet Ireland website here.
Management Development
Enhancing management capacity, particularly in SMEs, is a national policy imperative and a major priority for Skillnet Ireland and it's Learning Networks.
The suite of Skillnet Ireland Management Development Programmes are available to help business owners and managers improve business performance and enable businesses achieve better results. Click here for more information.